RECASTING
is Cambridge University's Classic's department's latest art show. It brings together works by contemporary artists 'who explore, embrace, or challenge the classical artistic tradition. Spanning different materials and formats – painting, sculpture, installation, video, and drawing'.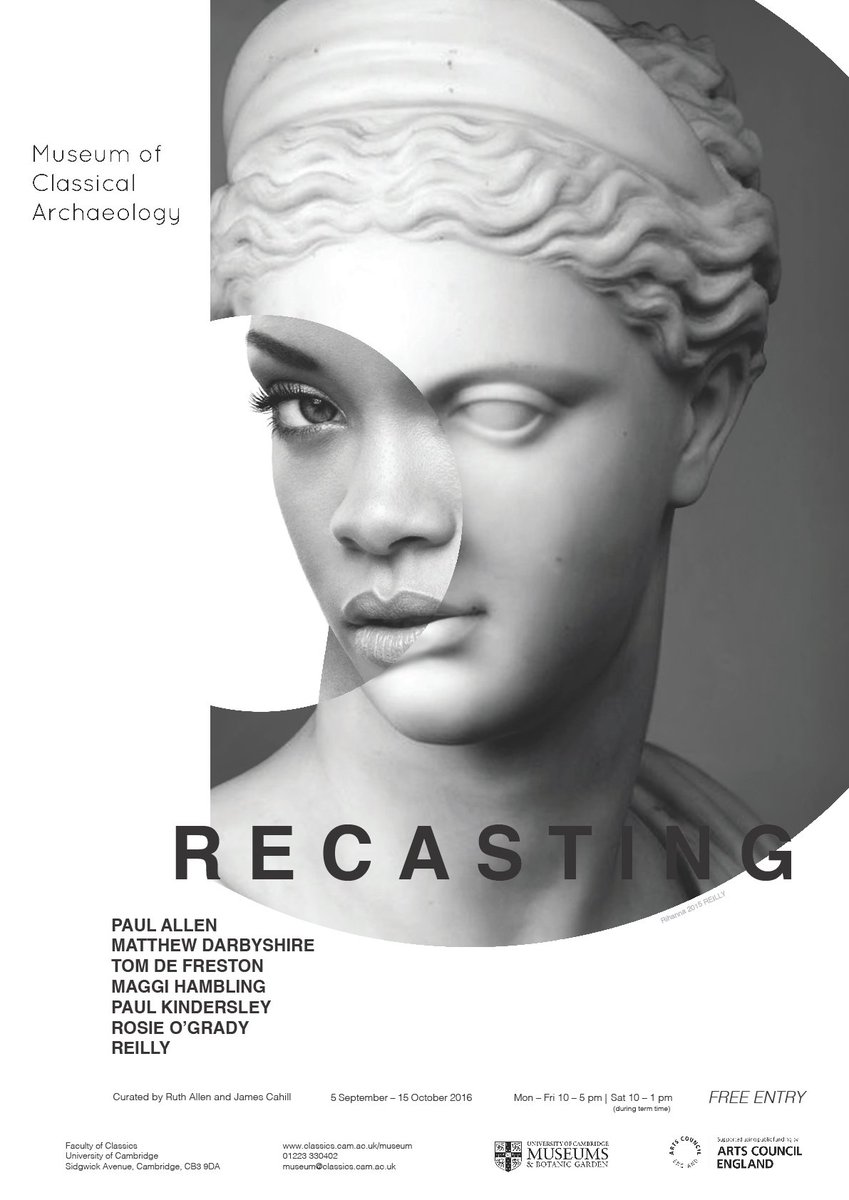 The exhibition takes the form of a series of interventions throughout the museum's Cast Gallery. Artworks will be displayed among the plaster casts of the antique which are on permanent view, in order to reveal some of the contrasts and continuities that define art's ongoing relationship with the classical past.
Through a series of pairings and juxtapositions, alternately dramatic and understated, RECASTING aims to provoke conversations between the classical tradition and the art of the present. Casting is examined as a mode of reproduction, but equally as a metaphor for classical reception.
The Artists:
-
Paul Allen
(b.1952) is a Brighton-based illustrator whose work has featured in many fields, including advertising, design, publishing, and the music industry.
-
Matthew Darbyshire
(b.1977, Cambridge) graduated from the Slade in 2000 and the Royal Academy in 2005. His work has featured in exhibitions around the world, from Barcelona to Turin to Yorkshire.
-
Tom de Freston
(b.1983) is currently Cultural Fellow at University of Birmingham and Artistic Director at Medicine Unboxed.
-
Maggi Hambling
(b.1945) was was the National Gallery's first Artist in Residence and her major solo exhibitions include the National Gallery, London (2014), State Hermitage Museum, St. Petersburg (2013), Fitzwilliam Museum, Cambridge (2010), Yale Center for British Art (1991), and the Serpentine Gallery, London (1987). Hambling's public sculptures include Scallop (2003), which is permanently sited on Aldeburgh beach, Suffolk.
-
Paul Kindersley
(b.1985, Cambridge) graduated from Chelsea College of Art in 2009. His drawings have featured online and in exhibitions in London and Berlin.
-
Rosie O'Grady
(b.1990) graduated from Glasgow School of Art and University of Glasgow in 2015, and from Glasgow School of Art in 2013. Her work has featured in exhibitions in the UK and USA.
-
REILLY
(b.1969) graduated from the Royal College of Art in 1993. His work has featured in campaigns for top brands, including Coca Cola, Vogue and Nike, and in magazines.
RECASTING is curated by Ruth Allen and James Cahill, graduate researchers in the Faculty of Classics. Ruth is a Roman art historian, currently working on the iconography of engraved Roman gemstones. James's research focuses on the relationship between contemporary visual art and Greco-Roman art and mythology. He regularly contributes to art magazines and periodicals.
By far the most media attention concerning this exposition goes out to Scottish artist Reilly, who exhibits a work from his 2015 series called '
Pieter
', in which the image of Rihanna and Aphrodite of Knidos was first seen alongside celebrities as Adele,
Micheal Jackson
,
Obama
and
Amy Winehouse
mutated into classic sculptures, paintings and each other. The Aphrodite of Knidos was one of the most famous works of the ancient Hellenic sculptor Praxiteles of Athens (4th century BC).
The show will be open to the public
September 5th – October 15th.