The constellation Draco (from the Greek Drakon, meaning dragon) is identified--funnily enough--with some dragons in Hellenic myth but not others. There are quite a few creatures, after all, who would qualify as a dragon in Hellenic myth. For a dragon or hydra not connected to the constellation, think of the one
Kadmos
vanquished, for example, or the one Apollon vanquished at
Delphi
, or even the dragon who guarded the
Golden Fleece
and was slain by Iásōn. In truth, only two dragons were associated with the myth in ancient times, most notably by Hyginus in his Astronomica: Drakon Hesperios, the Hesperian Dragon, and Drakon Gigantomakhios, the Gigantomachian Dragon.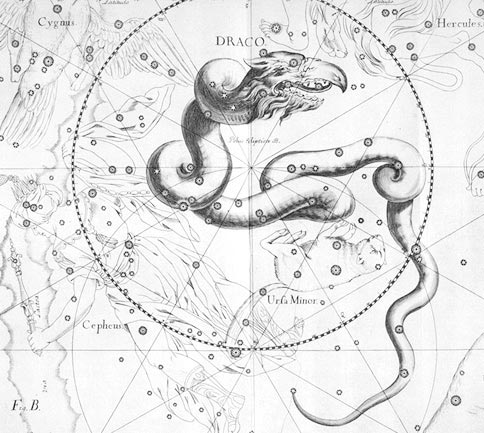 The first of the myths associated with the constellation is the legend of the Drakon Hesperios (Δρακων Ἑσπεριος), who was slain by Hēraklēs during one of his Labours. I will tell the whole myth of the labour soon enough, but I will share what
Hyginus wrote
about this labour, and Hēraklēs' encounter with Ladôn (Λαδων), as the dragon was often called.
"This huge serpent is pointed out as lying between the two Bears. He is said to have guarded the golden apples of the Hesperides, and after Hercules killed him, to have been put by Juno [Hera] among the stars, because at her instigation Hercules set out for him. He is considered the usual watchman of the Gardens of Juno. Pherecydes says that when Jupiter [Zeus] wed Juno, Terra [Gaea] came, bearing branches with golden applies, and Juno, in admiration, asked Terra to plant them in her gardens near distant Mount Atlas. When Atlas' daughters kept picking the apples from the trees, Juno is said to have placed this guardian there. Proof of this will be the form of Hercules above the dragon, as Eratosthenes shows, so that anyone may know that for this reason in particular it is called the dragon." [II.3]
The sole other dragon this myth is linked to is Drakon Gigantomakhios (Δρακων Γιγαντομαχιος), who rose up during the
Gigantomachy
. When the Olympians rose to power, they first fought the Titans during the
Titanomachy
. Vanquishing them, the Theoi thought They had won. Yet, there was one who sought revenge for the defeat of his father: Typhôeus, the most-feared son of Tartaros and Gaea. Some versions of the myth say that Typhôeus was actually the Drakon Gigantomakhios, or one of his offspring. Hyginus shares what happened to the dragon:
"Some also say this dragon was thrown at Minerva [Athena] by the Giants, when she fought them. Minerva, however, snatched its twisted form and threw it to the stars, and fixed it at the very pole of heaven. And so to this day it appears with twisted body, as if recently transported to the stars."
The constellation Draco is visible at latitudes between +90° and −15°, and best visible at 21:00 (9 p.m.) during the month of July. Tomorrow, we will talk a little more about the types of dragons in Hellenic myth, because I suddenly realized the association with medieval dragons is very easily made when reading 'dragon', but I assure you, the ancient Hellenes were unaccustomed to giant, fire breathing, lizards.