No, they are not remantts of the ancient Hellenic world. No, these are not the temple complexes of my Gods--but they are the temple complexes of someone's Gods and cultural heritage. Recently, satalite images were released of the destroyed temple of Bel, the most important site in Palmyra, and the temple of Baalshamin. These unique treasures, which had stood in the Syrian desert for over 2000 years are now lost to us forever due to the destructive actions of Islam extremists in the ISIS movement. So, this post is not Hellenic, but I don't care. This is a homage to these temples and the many other wolrd heritage sites already destroyed.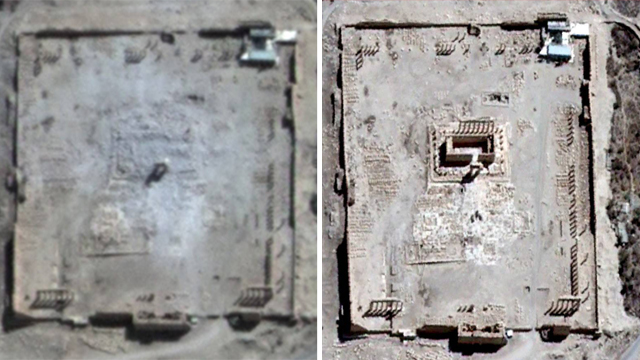 Satellite images show that only rubble remains at the site
of the Temple of Bel in Syria's ancient city of Palmyra.
Those are satalite images of the after and before, clearly showing this temple complex has been wiped off the map--literally. Known as the Pearl of the Desert, Palmyra – which means City of Palms – lies 210km (130 miles) north-east of Damascus. Before the Syrian conflict erupted in 2011, more than 150,000 tourists visited Palmyra every year. Palmyra was one of the most important cultural centres of the ancient world, according to cultural agency UNESCO, which has described it as the crossroads of several civilizations.
Construction on the temple began in 32BC and ended in the second century. It later served as a church and a mosque. This used to be one of the best preserved Roman-era sites in the Syrian city of Palmyra.
The grainy images show that the famed temple of Baalshamin, considered the second-most significant in ancient Palmyra, was also levelled. Militants from the Islamic State set off explosions at the 2000 year old temple dedicated to the Canaanite sky deity Baalshamin. The temple's earliest phase dates to the late 2nd century BC. It was rebuilt in 131 AD, while the altar before the temple is dated to 115 AD. With the advent of Christianity in the 5th century AD, the temple was converted to a church. Uncovered by Swiss archaeologists in 1954–56, the temple was one of the most complete ancient structures in Palmyra.
The temple stood right next to th Roman amphitheater where the Islamic State held a mass execution, killing 25 prisoners. On top of that, last month Islamic State beheaded the guardian of Palmyra's ruins, Khaled al-Asaad, an 82-year-old Syrian archaeologist who had looked after the site for more than four decades, and hung his body in public. Here is my homage to him, a man who has all my respect. May his name never be forgotten!Him and that of all others who have been murdered by ISIS.